Strong earning potential with the average salary of ITIL professionals of over $100,000 per year
Strong Career demand with over 130,000 ITIL professional job openings on LinkedIn
Advance your career by mastering IT Service Management (ITSM) concepts and skills

Improve the efficiency and quality of IT service delivery
Gain greater visibility of IT costs and assets
Reduce the cost of IT recruitment and training with targeted investments in the professional development of your ITSM workforce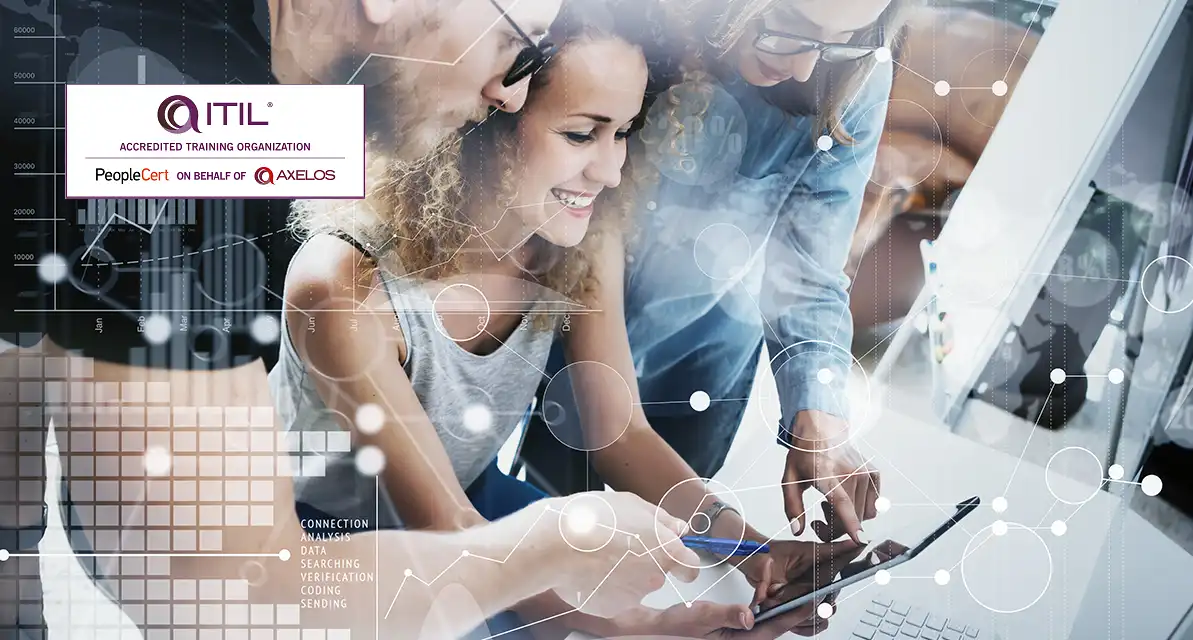 Learning Tree ITIL® 4 Certification Program Features
PeopleCert Accredited Courseware and Instructors

Blended On-Demand and Instructor-led Learning Paths

Exam Voucher Included

Take2 Exam Retake Included
ITIL® 4 Certification Training Courses
ITIL® 4 Roadmap
ITIL 4 features a foundation-level certification, transition option for ITIL v3 experts to become an ITIL Managing Professional (ITIL MP) until July 1, 2022, as well as ITIL 4 Specialist and Strategist certifications to continue your professional development journey in ITIL.
ITIL® 4 Certification Paths
Authorized training aligned with the ITIL 4 Certification Scheme
Obtaining a Managing Professional designation gives you the essential skills to manage successful IT-enabled products and services.
Gaining a Strategic Leader designation helps you navigate the complexities of the digital era and prepare for digital transformation.
ITIL® 4 Certification FAQs
The Information Technology Infrastructure Library (ITIL) 4 provides a practical and flexible base to support organizations on their journey to the new world of digital transformation.
It provides an end-to-end IT/digital operating model for the delivery and operation of tech-enabled products and services.
The ITIL 4 Certification showcases the holder's mastery of key ITIL 4 concepts and processes.
The Foundation level is designed as an introduction to ITIL 4. It enables you to look at IT service management through an end-to-end operating model for the creation, delivery and continual improvement of tech-enabled products and services.
To help you prepare, we will provide you with the official ITIL 4 Foundation publication prior to your course.
For those who are new to ITIL, we recommend taking our three-day course, ITIL® 4 Foundation Training. Blended learning and unlimited access bundles are also available.
Our ITIL® 4 Managing Professional (MP) Transition Module is designed for ITIL v3 candidates who are ITIL Experts or who have achieved 17 credits from across the v3 scheme.
The transition course covers the core elements from the ITIL Managing Professional stream. It has a mandatory training element and exam, enabling v3 candidates to transition their existing designations into the new ITIL 4 certification scheme.
Completion of this module will provide you with the ITIL Managing Professional (ITIL MP) designation.
Completing your 17 credits and becoming eligible for the ITIL 4 Transition Certification Course is the fast-track route to becoming an ITIL 4 Managing Professional.
Publicly scheduled ITIL 4 course events feature the Take2 re-sit exam option. In the case of an unsuccessful result, you can retake the exam within six months of your first try.
Learning Tree's ITIL 4 Foundation Adaptive Virtual Academy features virtual touchpoints and on-demand learning using the world's most advanced adaptive learning platform. It personalizes the learning experience based on existing knowledge and confidence levels.
This one-of-a-kind ITIL 4 Foundation adaptive course is combined with:
A social learning platform for peer-to-peer networking and expert guidance
The official ITIL 4 textbook
An ITIL 4 Foundation exam voucher to get you certified
This unique blend of ITIL 4 Foundation learning resources has been hand-picked to provide a modern learning experience that is tailored for your individual skill level and learning style.