ITIL was once only for managing IT services but has now expanded to include best practices for handling all types of services together with the business and the customer or consumer. It is this evolution that makes ITIL 4 so exciting.
If you'd like to learn more about ITIL 4 and how you and your organization can benefit from the new ITIL 4 release, you'll want to sign up for this exclusive online webinar! ITIL Expert Peter Forsbeck and AXELOS ITIL 4 Ambassador Philip Hearsum will discuss how ITSM with ITIL 4 can serve as a strategic capability to support organizational agility, resilience, and velocity.
In this webinar, you'll learn:
Why is Service Management so important now?
How will ITIL 4 meet your and your organization's needs?
What are the top 3 differences between ITIL v3 and ITIL 4?
What does the new certification scheme look like now?
What is the benefit of the Transition module to delegates already on their ITIL journey?
When are the next level courses due out?
Earn 1 CEU. Credits are self-reported to the industry certifying bodies. Check their respective websites for details/qualifications.
[Webinar ID #1124]
Don't Miss Out
Complete and submit the form below to watch the webinar.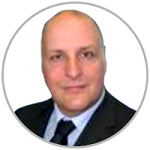 Philip Hearsum, ITIL 4 AXELOS Ambassador

Philip Hearsum, ITIL 4 AXELOS Ambassador
Philip started his career as a computer operator and first became involved in the world of service management in 2005 when he was tasked with consolidating a group of UK media companies, to introduce ITIL. In 2008 he joined Buying Solutions as a Service delivery manager involved with supplier management within the Government security arena. In 2010 he moved to the Office of Government Commerce. In 2013 AXELOS was born as a partnership between the Cabinet Office and Capita and Philip was able to develop his ITIL knowledge to become a highly regarded ITIL Ambassador. He also has a responsibility for developing Academia within the AXELOS Best Management Practice portfolio.
Philip is a member of the UK working group for ISO20000 and holds the ITIL v2 managers, v3 expert, PRINCE2 practitioner (2017), RESILIA, M_O_R, ITIL Practitioner and ISO20000 consultant certifications. He is also a member of the LAT (Lead Architect Team) for ITIL 4.
Peter Forsbeck, ITIL Expert
Peter has in a management capacity always worked in the borderland between the business and IT, focusing on how to continually improve and develop the business by providing innovative and enabling IT solutions. Peter has extensive experience in a number of business areas including telecommunication, media, and finance.
Peter is active in The Service Corporation, a company he founded with three colleagues in 2011. The Service Corporation is a modern management and information technology company, founded in order to align business needs with IT's ability to deliver growth, as well as providing support as a service to global businesses, and to help them with their digitalization journey. Peter's position in the company is Chairman and professional services manager.
Peter has been an ITIL trainer and consult since 2007, as well as an ITIL v3 expert since 2010.
Peter and The Service Corporation are an ITIL Licensed Affiliate to AXELOS, and a training partner to Learning Tree.