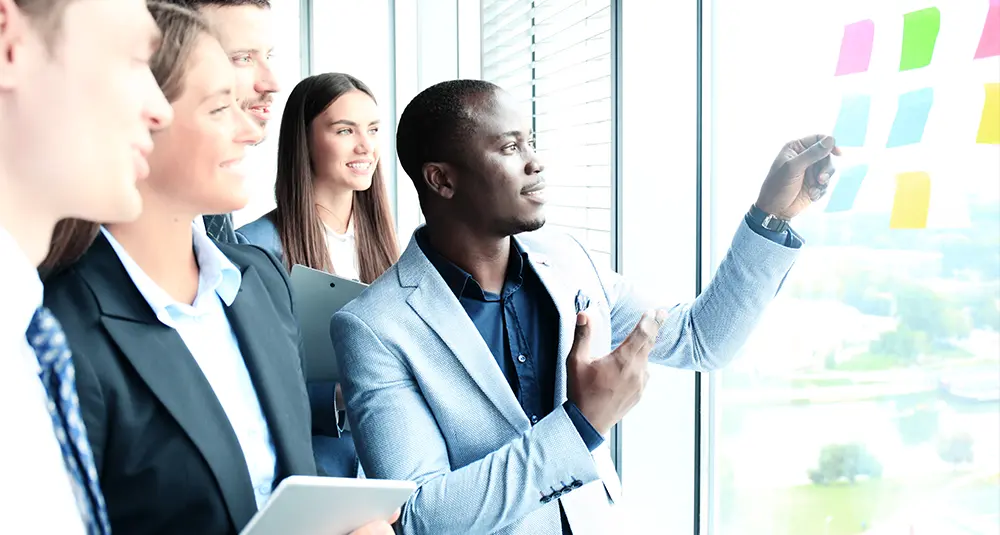 Agile Transformation is the process of transitioning an organization's culture and mindset from a reactionary or "waterfall" means of getting work done to Agile ways of working, allowing the organization to embrace continuous change and thrive in a flexible and collaborative environment.
At Learning Tree, we know it takes more than just training to fuel a successful Agile transformation. It is a "hearts and minds" journey that the entire organization – from top to bottom – must take together, and Learning Tree is ready to be your guide on this business-changing endeavor.
"Company culture and a lack of management support are the leading causes of unsuccessful delivery with Agile."

source
Learning Tree has helped numerous organizations globally (including Fortune 500 companies and government agencies) to navigate their Agile transformation — from assessment and planning to implementation and scaling. Learning Tree's Agile Transformation Solutions feature a customizable, multi-faceted approach that supports every level of the enterprise, from initial implementation to scaling for the enterprise, while addressing the most common Agile Transformation challenges.
Learning Tree offers a robust suite of in-person and virtual Agile & Scrum solutions to help bring out the best in your organization. The benefits of working with Learning Tree on part or all of your Agile transformation journey include:
40+ years of experience supporting the world's most innovative organizations
Agile consultants with real-word implementation and coaching and Instructor experience
A framework-agnostic approach means Learning Tree can support your transformation no matter which approach you're using
Extensive Agile learning curriculum offering flexibility and scalability to be the right fit for your organization
Partner to leading Agile Certifying bodies offering a range of Agile certification paths
Experience scaling Agile solutions across continents and time zones
Project Management and Service Delivery service – dedicated teams experienced and supporting organizations through their transformation journey
Our Agile and Scrum training courses and talent solutions are designed specifically for the needs of those who are participating in an Agile or Scrum implementation – or are ready to supercharge their careers with Agile and Scrum skills. Whether you are interested in becoming a professional Agilist or someone skilled in the core areas of effective enterprise and business agility, Agile and Scrum training and development is right for you.
There are several ways to utilize Learning Tree offerings to become skilled in Agile and Scrum:
FOR PROFESSIONAL AGILISTS:
Individuals may utilize organizational resources such as training budgets or tuition reimbursement for payment.
FOR ENTERPRISE-LEVEL TRAINING GROUPS:
Certification courses, skills-based courses, coaching, and Agile Transformation Solutions for:
For groups
For individuals
On-site at place of work
In-person at a Learning Tree Education Center
Virtual
We offer more than 70 individual instructor-led courses in Agile and Scrum, as well as a full-scale Agile Transformation Roadmap to guide your enterprise Agile implementation.
Course Offerings
Our 5 most popular Agile & Scrum courses are:
For a full list of related courses, visit: Agile & Scrum Training or DevOps Training
The Learning Tree Agile Transformation Roadmap
Learning Tree's Agile Transformation Roadmap is never one-size-fits-all. When you engage Learning Tree to support your Agile transformation, a dedicated Learning Tree Agile Expert will walk you through each step of the Agile Transformation Roadmap to recommend and co-create a customized, multi-faceted approach that supports your organization's unique vision for Agile implementation. Our role is to provide support and guidance in the areas in which your organization needs support – whether that's end-to-end guidance from start to finish, or a curated selection of support services that enhance your current implementation approach.
The Learning Tree Agile Transformation Roadmap includes:
Training & Certification
Experience Agile Coaches
Executive Leadership Coaching
Transformation Planning Services
Embedded Coaching & Team Workshops
Skill Mapping & Training Needs Assessment
Learn More & Explore the Learning Tree Agile Transformation Roadmap ›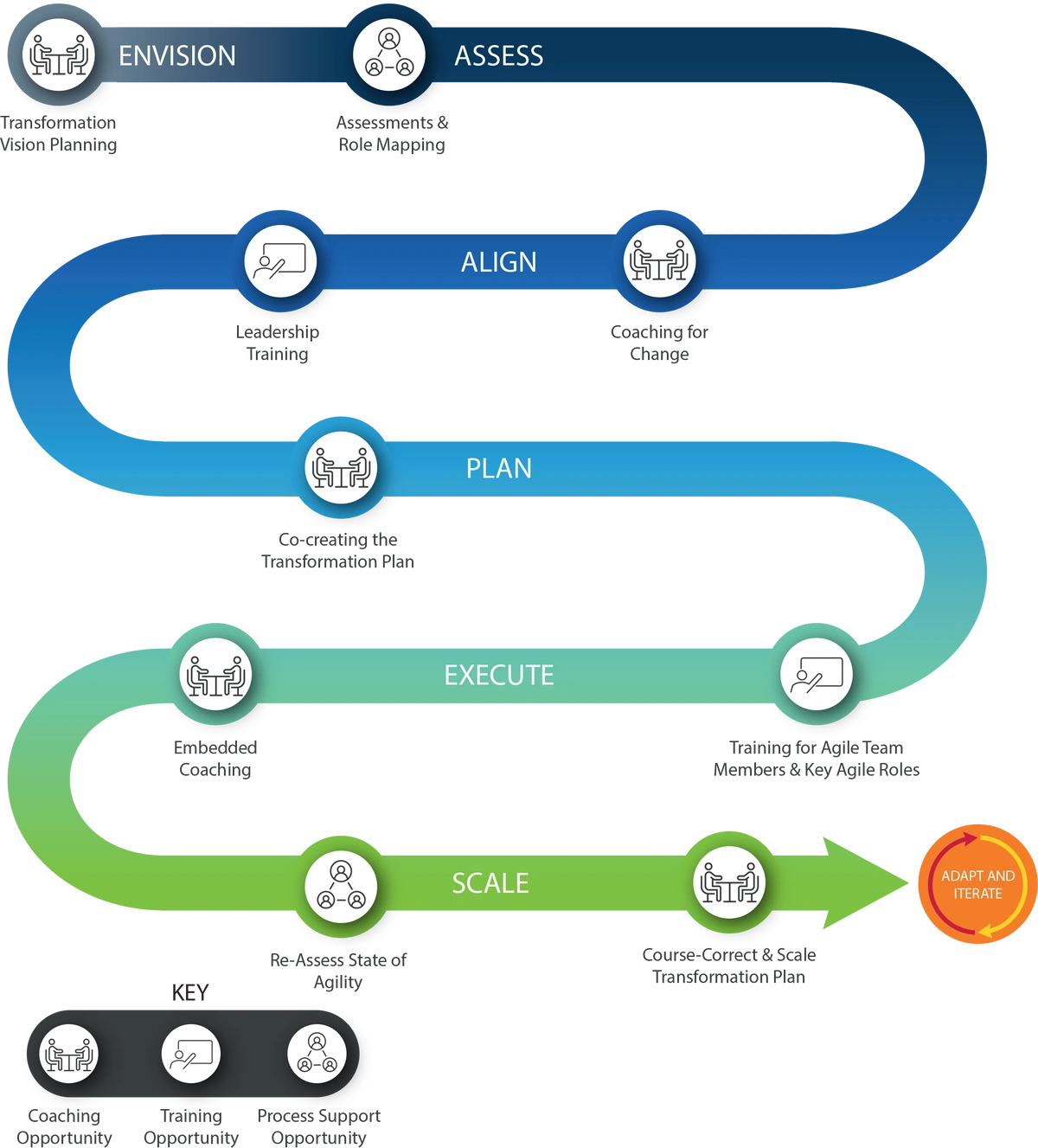 Meet a Few of Our Project Management Instructors
Hamid Aougab
Learning Tree Instructor & Curriculum Dean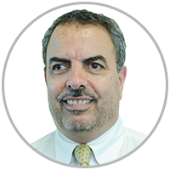 Eshan Chawla
Learning Tree Instructor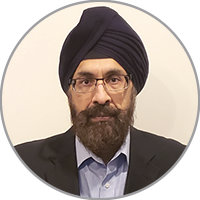 Greg Adams
Learning Tree Instructor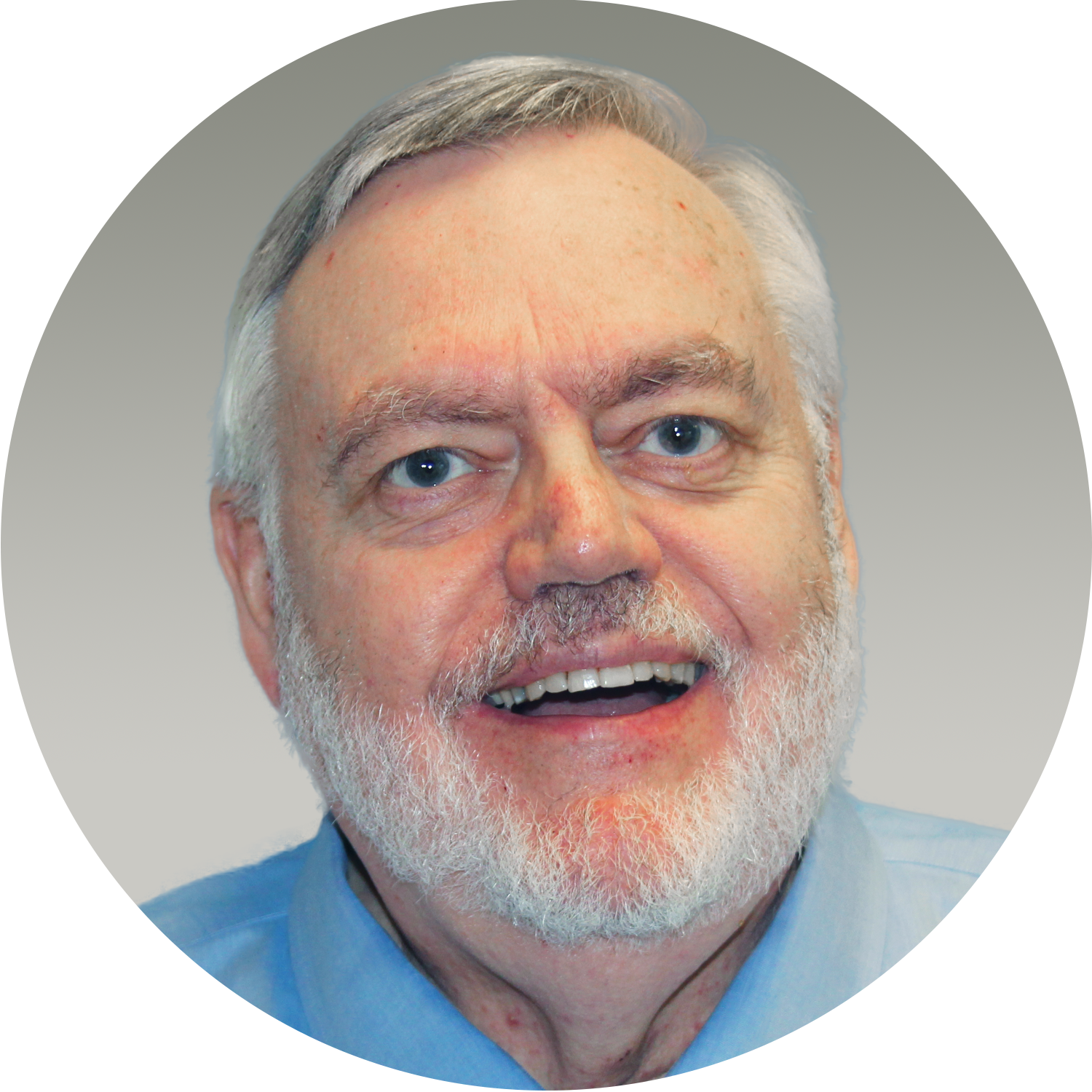 Featured Agile & Scrum Courses
Blog Articles
Check out the latest blogs!
The Latest in Agile & Scrum