3/15/2023
True business agility comes from freedom, not frameworks. Discover the Project Management Institute® Disciplined Agile (DA) program and tap into the industry-leading process decision tool kit that describes how agile software development, DevOps, IT, and business teams work in your enterprise. Disciplined Agile gives you the tools you need to join the ranks of organizations that go to market sooner, deliver value faster, and make their customers happier - all with Disciplined Agile.

Want to know if the Project Management Institute (PMI) Disciplined Agile Program is right for you? Read on to find answers to commonly asked questions about the program.
What is Disciplined Agile?
Disciplined Agile is not a framework; rather, it's a tool kit that focuses on the decisions you need to consider, the options available, and the trade-offs associated with them. It shows you how to effectively combine strategies from Scrum, Kanban, SAFe®, and many other approaches in a tailorable and scalable manner. As a result, organizations that adopt Disciplined Agile go to market sooner, deliver value faster and make their customers happier.

Disciplined Agile (DA) enterprise decision support tool consists of Agile and Lean practices that help clients make better software project delivery decisions, including:
Outcome-based - 23 Goals
155 Critical decisions all software projects should consider
840+ options that are ranked by complexity and agility
Includes SAFe, Scrum, Kanban etc.
More than agile IT - Finance Procurement, HR etc.
What facets of decision-making does Disciplined Agile support?
Disciplined Agile considers four views:
Mindset, building on the foundations of agile and lean to address enterprise realities
People, describing the roles, responsibilities, and team structures you should have in place
Flow, describing the dynamic aspects of processes via lifecycle diagrams and workflow diagrams
Practices, outlining the techniques that move your team forward, using straightforward goal diagrams that provide a high-level picklist of practices
How does Disciplined Agile help organizations?
Despite the growing emphasis on Agile practices in an enterprise, large-scale adoption can be a real struggle across teams and departments. Utilizing the Disciplined Agile tool can help organizations make better decisions regarding software delivery to improve enterprise Agile adoptions and transformations.
Disciplined Agile can help organizations struggling with Agile and waterfall approaches in response to large-scale transformation initiatives, as well as organizations having trouble implementing Agile scaling frameworks like SAFe and LeSS. In addition, if Agile adoption uptake remains slow, despite repeated attempts to emphasize the agile mindset in the enterprise, Disciplined Agile can provide the toolset you need to break free of the cycle of stunted adoption. Read some of the Disciplined Agile Success Stories from PMI.
Which organizations should use Disciplined Agile?
Disciplined Agile can be used for a wide variety of applications but can be mainly used for organizations that:
Need to design their own frameworks based on the context of their work
Are looking to have an agile mindset but need enterprise awareness for agile practices
Want to develop their own Agile coaches
What does the Disciplined Agile certification program look like?
Explore the map below to see how the Disciplined Agile certification program can meet you where you are and take you where you want to go: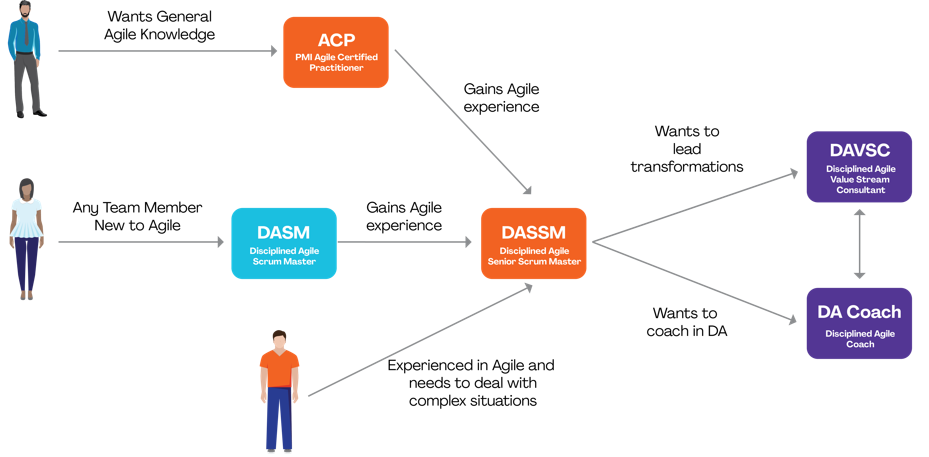 Learn about the best practices in project management, program management, and Agile with PMI. Courses are available In-Person, Online, or as Private Team Training!
This piece was originally posted on June 9, 2021, and has been refreshed with updated links and styling.