Are you considering a move to the cloud but aren't sure where to start? In this webinar, we'll explore the benefits of cloud computing and the differences between on-premises and cloud-based infrastructure. We'll also compare two of the leading cloud providers, Azure and AWS, to help you choose the right provider for your needs.
We'll cover the key steps involved in planning and executing a successful migration from on-premises to the cloud. We'll share tips and best practices for minimizing downtime, securing your data, and managing costs. We'll also discuss the tools and services available for monitoring and optimizing your cloud infrastructure and applications.
Whether you're new to the cloud or already using it and looking to optimize your environment, this webinar is for you. Join us to learn how to transition to the cloud with confidence and maximize the benefits of cloud computing.
Attendees of this webinar will:
Learn about the benefits of cloud computing
You will learn about the key benefits of cloud computing, including flexibility, scalability, and cost savings, and how they can benefit your organization.
Understand the differences between Azure and AWS
You will gain a deeper understanding of the differences between two of the leading cloud providers, Azure and AWS, and how to choose the right provider for your organization.
Best practices for cloud migration
You will learn best practices for planning and executing a successful migration to the cloud, including how to minimize downtime and ensure a smooth transition.
Optimize your cloud environment
You will learn how to optimize your cloud environment for maximum efficiency and cost savings, including how to monitor and manage cloud resources and use automation to streamline operations.
Ask questions and learn from industry experts
You will have the opportunity to ask questions and learn from industry experts about the best practices for managing a cloud environment, optimizing costs, and ensuring data security.
Transitioning to the Cloud Webinar FAQ
Who should attend this webinar?
IT Managers
IT Directors
Architects
Engineers
Administrators
Developers
Security professionals
Business Analysts
Previous Attendees of Learning Tree's Azure or AWS courses.
When does this webinar run live?
Tue, June 13th, 2023 | 11 AM - 12 PM EDT (1500 - 1600 UTC)
Can I earn continuing education credits for attending this webinar?
Yes! Earn 1 CEU for Attending. Credits are self-reported to the industry certifying bodies. Check their respective websites for details/qualifications.
[Webinar ID# 5318]
Webinar Registration Form
Complete and submit the form below to register for the webinar.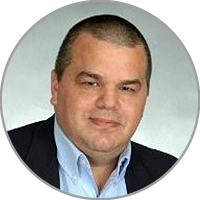 Esteban Delgado
With more than 30 years of experience in business information technology following emerging technologies and staying current with all business-relevant technology, Esteban is currently supporting our service organization at BIZITSS with a focus on providing the latest solutions in Security, Virtualization, and Cloud to business environments of all sizes.
Over the years, Esteban has supported and mastered desktop, server, network, and security technologies while more recently focusing more on in-depth security, virtualization, and cloud. He also stays current and shares his experiences and mastery by teaching to businesses and Government with the country's leading technology training providers—currently AWS Authorized Instructor, Microsoft Certified Trainer, and Google Cloud Authorized Trainer.