Microsoft Teams is set to replace Skype for Business as the No.1 chat-based workspace. Since March 2019 Microsoft themselves have moved from Skype to Teams. Teams is evolving rapidly as the chat and collaboration workspace for Office 365 users, so the challenge is how to keep up with those changes! Is your team ready to use Microsoft Teams effectively? Users are attracted by the dynamic collaboration possibilities, while others are concerned about the security of their documents and conversations.
Watch our webinar to find out:
What is the attraction of Teams?
What Microsoft products does Teams replace?
What is Microsoft Teams used for and when is it the right tool to use?
When should you create a new Team?
How many Channels should you use and what is the purpose of Tabs?
How do you maintain security when Teams include guest members from outside your organization?
What are the current best practices for owners and members?
If your organization is using Office 365, then Microsoft Teams will inevitably play some part in your collaboration and communication strategy. What are your plans to get the best from Microsoft Teams?
Earn 1 CEU. Credits are self-reported to the industry certifying bodies. Check their respective websites for details/qualifications.
[Webinar ID #1126]
Don't Miss Out
Complete and submit the form below to watch the webinar.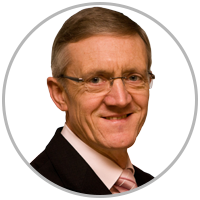 Presented By Martyn Baker
Martyn Baker has an active interest in making life easy for himself and others. He believes that software and systems must provide a benefit. Just because they are the latest offering and surrounded by hype doesn't in itself make them useful. A good understanding of how these tools can help us is key to smoothing out our workday. With a background in print and publishing Martyn has witnessed the transition from paper to digital and now collaboration is changing fast. He has been a Microsoft Partner for many years and the support of Microsoft has proven invaluable.