The "cyber security problem" continues to worsen dramatically despite spending tens of billions of dollars a year on software and tools. In contrast to this, many of the tools used by attackers are free, or very low cost! In this webinar, we will provide some perspectives on this predicament as well as some important approaches worth considering.
Don't Miss Out
Complete and submit the form below to watch the webinar.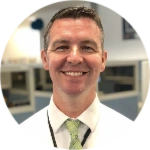 Presented by Gareth Marchant
Gareth has well over 20 years experience in IT infrastructure, security engineering, and senior-leadership roles. He provides training, education, and workforce development for private and public organizations. He is an authorized (ISC)2 and EC-Council instructor and teaches courses for the CISSP, CEH and Security+ certifications (as well as many others). Gareth is also a technical editor for McGraw-Hill Education and teaches IT and cyber security courses at several large universities.