If you're a contractor who engages directly with the Department of Defense (DoD) and subcontractors doing business to fulfill and execute those issued contracts, then you've likely heard of the Cybersecurity Maturity Model Certification (CMMC) mandate. You're not alone. The CMMC certification requirement will impact more than 350,000 organizations worldwide. This includes suppliers such as the DoD supply chain, commercial item contractors, small businesses, and even foreign suppliers.
The first step is seeking training and certification. But how, and to what extent will your organization need certification? While many will be required to attain levels 1 through 3, the RFP will determine the exact level of certification your organization will need for government contract eligibility. And that's only the beginning. You'll face many other challenges as you move through the process. Navigating those challenges with expert knowledge and confidence will help lead you (and your workforce) to CMMC success.
In this webinar, Shawn Duffy, founder and CEO of Duffy Compliance Services, explores these issues and more. One thing is clear, there are challenges to overcome, and getting started is paramount if you want to continue to compete, work and win DOD or federal contracts.
You Will Find Out How To:
Determine the CMMC maturity level for your organization
Prepare for the new changes CMMC will mandate on your organization
Discover some important CMMC framework decisions to move toward compliance
Discover common pitfalls early to build up your current systems with existing solutions
Don't Miss Out
Complete and submit the form below to watch the webinar.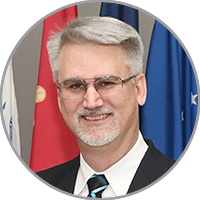 Presented by Shawn Duffy
Shawn Duffy is a Learning Tree instructor, founder & CEO of Duffy Compliance Services, and cybersecurity consultant and analyst with 30 years of real-world experience. His experience in understanding system threats and federal security controls makes him an asset to every security project. He was also recognized for his ability to convey security concepts from management to highly technical staff. He earned his bachelor's degree from the University of Maryland Baltimore County (UMBC) in Information Systems Management, and two Associates degrees from Howard Community College in Teaching and Business Administration.
Mr. Duffy has worked with many high-profile clients, such as the Nuclear Regulatory Commission (NRC), Freddie Mac, and Department of Homeland Security (DHS). He has also been a featured speaker for Intel on VPN and SSL technologies.
During his tenure, Mr. Duffy has earned dozens of certifications on the management and configuration of OEM security products. He has also earned several certifications with some of the most respected industry leaders, such as Cisco, Intel, EC-Council, SANS Global Information Assurance Certification (GIAC), and CompTIA. He was one of the first people to earn an ISC2 Certified Information System Security Professional (CISSP).