3/1/2022
Today, every industry is being disrupted by and adapting to new technologies and in most firms, the critical strategic initiatives have become equal parts business and technology. So, it is no surprise we are all looking for the technically strong talent who can drive business results and help transform our companies.
As we fight to recruit and assemble our share of the best technical talent, are we taking the right steps to ensure we also have the technical leadership talent needed to transform the efforts of diverse technical talent into the business results we need?
A recent survey revealed that recruiters said leadership potential is often overlooked when assessing technology candidates, preferring to prioritize technical expertise and other skills over leadership. The survey showed that 41% of companies provided no soft skills training, including leadership training, for tech employees.
People often get promoted into leadership roles because of technical or functional skills and expertise that enable them to perform well in their technical domain, but that don't translate into effective leadership.
Many struggle to inspire, coach, lead change, collaborate, build commitment, and strengthen accountability in their teams. As Harvard Business School professor Linda A. Hill, PhD, has found in her research on new managers, "One of the first things managers discover is that their role is even more demanding than they'd anticipated. They are surprised to learn that the skills and methods required for success as an individual contributor and those required for success as a manager are starkly different—and that there is a gap between their current capabilities and the requirements of the new position."
Left to their own devices to figure out how to lead, technical managers often operate under misguided assumptions about leadership and have blind spots as it relates to their own contribution to the difficulties they experience with their teams.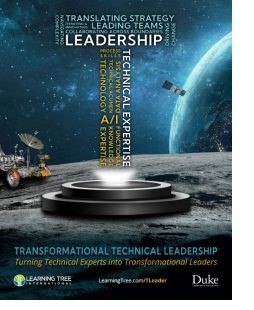 We need a reliable way to turn more technical experts into "T-shaped-Technical Transformational Leaders." We borrowed and adapted the notion of the "T-Shaped Leader," first coined by executive chair Tim Brown from IDEO, a firm well-known for its human-centric innovation, and prominence in Silicon Valley.
Technical specialists have deep knowledge, skills, and expertise that they use to understand the landscape rapidly evolving technologies and how to apply them for the benefit of their organizations. These technical skills are indispensable, critically important skills which need to keep sharp. They represent the vertical portion of the T.
The horizontal part of the T represents the leadership skills required to lead other people, strategy, change and drive innovation. Learning and sharpening these critical leadership skills such as collaborating across boundaries, navigating complexity, translating strategy into action; leading change, and building and leading teams, becomes the force multiplier to harness the technical talent on their teams and create transformational results.
Let's clear one thing up, the top of the T is important, but we are not proponents of building a cadre of generalists. Transformational Technical Leaders need a strong base of technical expertise and the leadership skills on top not only for their organization's benefit, but also to remain relevant in the workplace.
In another recent study, associate professor Amanda Goodall, PhD, from the Bayes Business School (formerly Cass), at City, University of London said, "Employees are far happier when they are led by people with deep expertise in the core activity of their business."
In her view, employees are happiest when the boss knows what she or he is talking about, and that drives performance. Goodall argues that the best leaders are technical experts, not general managers. She states, "If your boss really understands the nature of your work, then they can assess you well, help you raise your performance and encourage you in the right direction to advance in your career."
There is an urgent need for more Transformational Technical Leaders — businesses need them, and teams deserve them. It is unlikely for them to emerge in sufficient numbers if we leave things as they are and leave technical managers to fend for themselves to "learn as they go." It requires structure, investment, and commitment. When done, the results are rewarding. Let's get started.