1/17/2023
The Importance of Certifications in IT
An ever-increasing number of IT professionals today choose to get certified to continue to grow their expertise. They can get certified in technologies they are already very proficient in and also get certified in technologies they are transitioning to.
A Microsoft certification offers multiple benefits to the individual and their organization.
These benefits include:
Validation of expertise in a specific technology or a broader collection of technologies
Prerequisites for some technical positions, especially at more senior levels, areas with high-risk deliverables such as security, and trainer/instructor roles
Extra credibility when dealing with industry peers and with various other stakeholders
Specific milestones to reach, increasing motivation to learn new technologies
According to "The Pearson VUE 2017 Value of IT Certifications Survey," 64.9% of respondents received a positive impact from their IT certifications. Furthermore, the effect was rapid, with the majority achieving benefits within the first three months.
Certification is by no means a "silver bullet." However, all things being equal, a certified individual will always have the edge over one without relevant certifications. In a highly competitive economy, getting certified could thus be your ticket to growth and advancement!

A Brief History of Microsoft Certifications
Microsoft has long recognized the demand for certifications. Its first certification program, Microsoft Certified Professional (MCP), came to market in 1992. Microsoft certifications have evolved substantially since then, with a substantial change in approach arriving in 2019. Let's look at this historical context in more detail, as it would help us better understand the current landscape.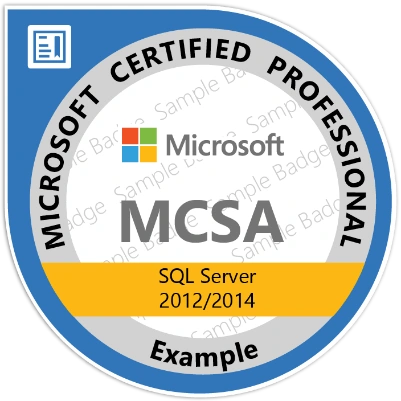 During the majority of their lifetime, Microsoft certifications focused on specific technologies. For example, a popular certification from a few years ago was "Microsoft Certified Solutions Associate (MCSA): SQL Server 2012/2014". As you can tell from the name, it was focused on the SQL Server platform at a specific set of versions.

Transition to Role-Based Certifications
This approach was prevalent and worked exceptionally well for several decades. However, as the industry evolved, Microsoft received additional feedback from its customers and other partners. This feedback prompted a shift from product-centric certifications to certifications that focus on specific job roles. Microsoft calls these new certifications "role-based."
The latter category of certifications typically covers many different technologies. However, instead of focusing on technologies in general, the role-based certification program maps credentials to easily recognizable jobs/positions and areas of responsibilities. This evolution in the certification program was first announced at Ignite 2018. The brand-new certifications then came to market in 2019. Additional certifications are continuously being released, with new ones being announced almost monthly.
An example of a role-based certification is "Azure Data Engineer Associate." This certification covers many technologies, including Azure SQL Database, Azure SQL Data Warehouse (renamed to Azure Synapse Analytics at Ignite 2019), Azure Data Factory Training, Azure Databricks, Azure Stream Analytics, Azure Data Lake Storage, Azure Blobs, etc.
As you can see, it can be a somewhat overwhelming amount of technology, although that's just the reality of the industry today. Whereas a decade ago, someone could make a living as, for example, a SQL Server DBA, today, one must be reasonably proficient in many related technologies while often also being an expert in some of them (known as "T-shaped" skillset).

The Role-Based Certification Landscape
Let's look at the role-based certification stream in more detail. Microsoft today offers an exceptionally comprehensive collection of certification options that covers all its core technology platforms and most common technical roles in the industry. These certifications are organized into 4 solution areas:
Apps & Infrastructure
Data & AI
Modern Workspace
Business Applications
Each of these solution areas is further subdivided into three levels of difficulty. Microsoft defines these levels as follows:
Fundamentals: "Ideal for individuals just starting in technology or thinking about a career change."
Associate: "Two years of comprehensive working experience. It is helpful to have related Fundamental certifications, but it is not required."
Expert: "Two to five years of deep technical experience. Many Expert certifications require a specific Associate level certification."
Source: https://www.microsoft.com/en-us/learning/certification-overview.aspx
Apps & Infrastructure
It would be helpful to look at these solution areas in more detail. Let us start with Apps & Infrastructure. This was the 1st solution area to be released by Microsoft. It remains one of the most popular areas today and is continuously refreshed with new Azure content.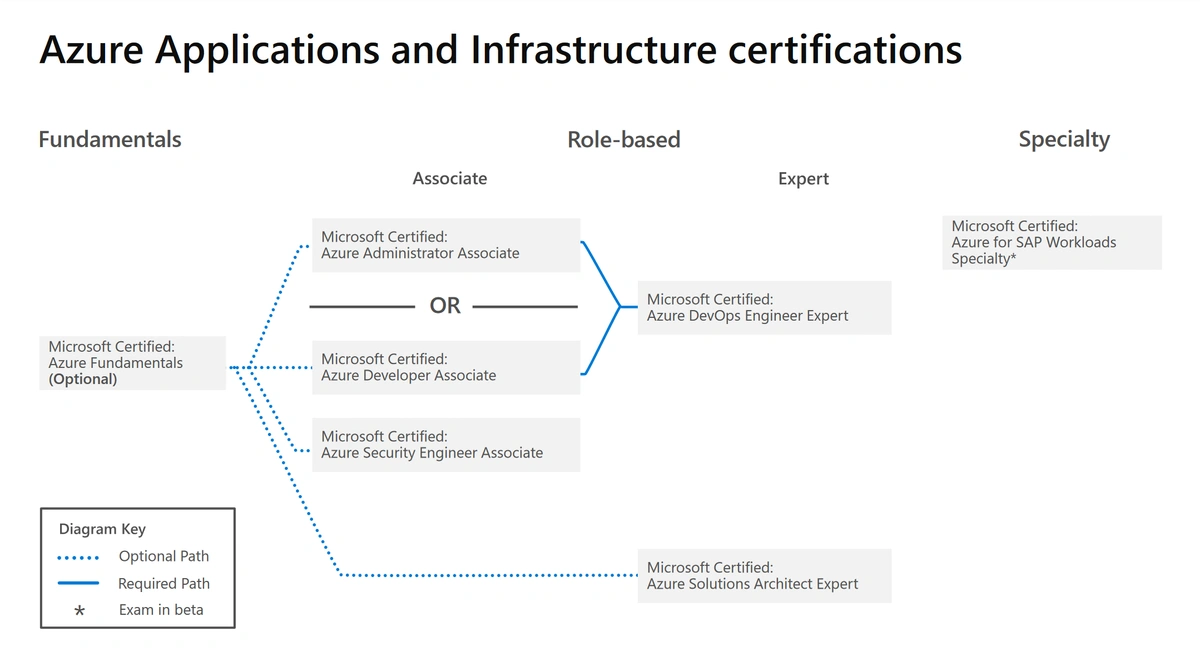 As you can see from the diagram, this area is focused on Administrator, Developer and Security Engineer job roles. Those new to Azure can also optionally take the Azure Fundamentals course, an excellent 1-day overview of critical benefits and concepts associated with the Azure platform. Additionally, experienced Azure professionals can progress to earn Architect or DevOps Engineer certifications. Finally, the upcoming Azure for SAP Workloads specialty in 2020 is perfect for those moving their on-prem SAP deployments to Azure.
Data & AI
The next area we will look at is Data & AI. As you know, an increasing number of us. IT deals with an ever-growing volume and complexity of data. This data includes structured, semi-structured and unstructured stores. It must be ingested, processed and visualized in a variety of ways. Specialized experts would also often apply data science, Artificial Intelligence (AI), and Machine Learning (ML) techniques to get insight from this data and predict future trends.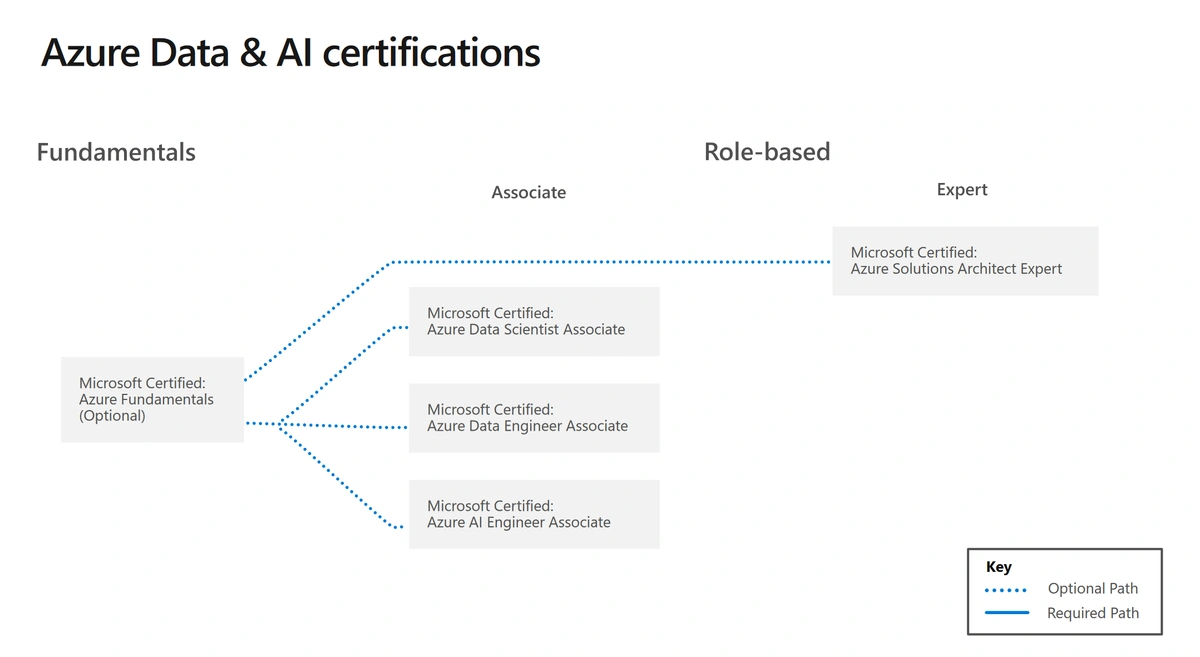 As you can see from this diagram, this solution area shares the Fundamentals and Solution Architect certifications with the Applications and Infrastructure solution area. This is intentional. These certifications cover various technologies and skills and thoroughly apply to both areas.
The core of this solution area consists of Data Scientist, Data Engineer and AI Engineer roles. The former is earned by passing two exams; one focused on hands-on implementation and the other on high-level design concepts. Each of the latter two certifications is earned by passing one exam.
Modern Workspace
Let's look at the Modern Workplace certification area next.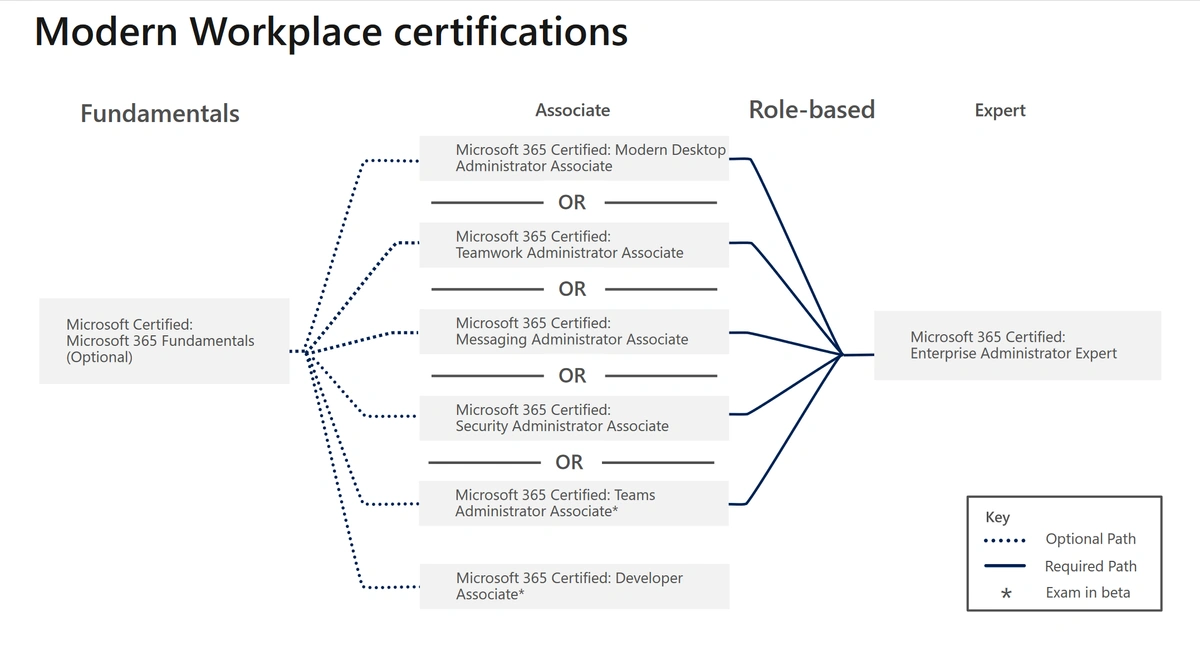 Similarly to the previous two solution areas, the Modern Workplace certification area has an optional Fundamentals level. This is useful for those new to Microsoft 365, and it provides an excellent overview of that platform in an easy-to-schedule 1-day course.
The Associate level has various choices for your specific job role on the Microsoft 365 platform. It is common for a single individual to pursue many certifications at this Modern Workplace level. For example, many choose to be certified as both Teamwork Administrator and Messaging Administrator.
Similarly to the Data & AI solution area, there is a single Expert-level certification. However, the difference compared to Data & AI is that you must first fulfill a strict prerequisite. Specifically, you would only get certified as an Expert if you possess at least 1 of 5 qualifying Associate certifications.
Business Applications
The newest solution area available is Business Applications. This area covers the many Dynamics 365 modules as well as Power Platform. Power Platform consists of Power BI, Power Apps and Power Automate (the latter was formerly known as Flow).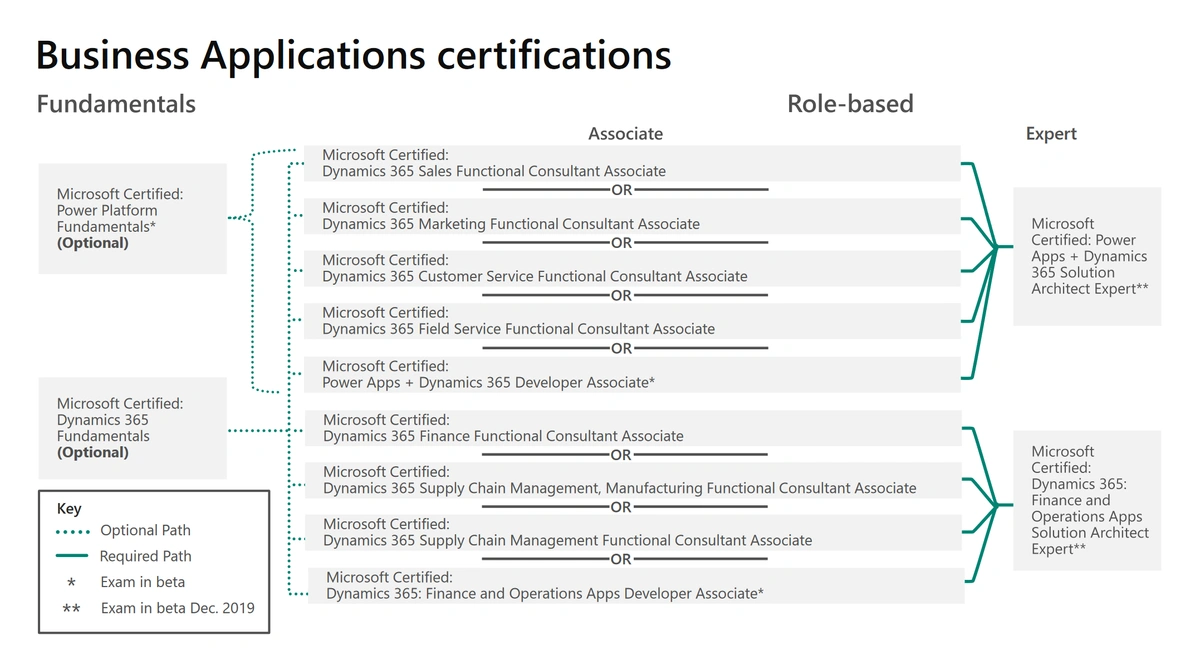 The wide variety of certification options here is driven by the richness of the Dynamics 365 platform and, consequently, by the number of specialized modules within it. Most certifications in this area are new, having been released to the market within the past few months. New certifications are also continually being added to the Business Applications domain. Whether you work with the Power Platform or Dynamics 365, now is a great time to earn these certifications.
Embracing Microsoft's Role-Based Azure Certifications
I hope this blog helped you get introduced to Microsoft's new role-based Azure certifications. Stay tuned for our January blog and webinar, where I will dive deep into the Apps & Infrastructure certification area.
Earn credibility in the digital transformation era and validate your Microsoft solutions knowledge with Microsoft Certification Training
This piece was originally posted on December 17, 2019, and has been refreshed with updated styling, headers and links.