9/11/2019
By Chris Littlewood FLPI MBCS Service Management Expert

Transitions can be startling, and change can be worrisome, but often with change comes improvements. Often times you wonder, why should I go with this change? Think of your phone for example, you might think, "Why should I upgrade?". You love your iPhone 7 right now, it hasn't done you wrong, so why upgrade to the new iPhone 11? Well, didn't you feel the same years ago with your iPhone 4? Now you can't imagine using a phone without the features the 7 offered, and you'll feel the same when you upgrade to newer versions.
If you have been studying and practicing ITIL for many years the feeling may be similar. When you heard ITIL 4 was coming did you feel: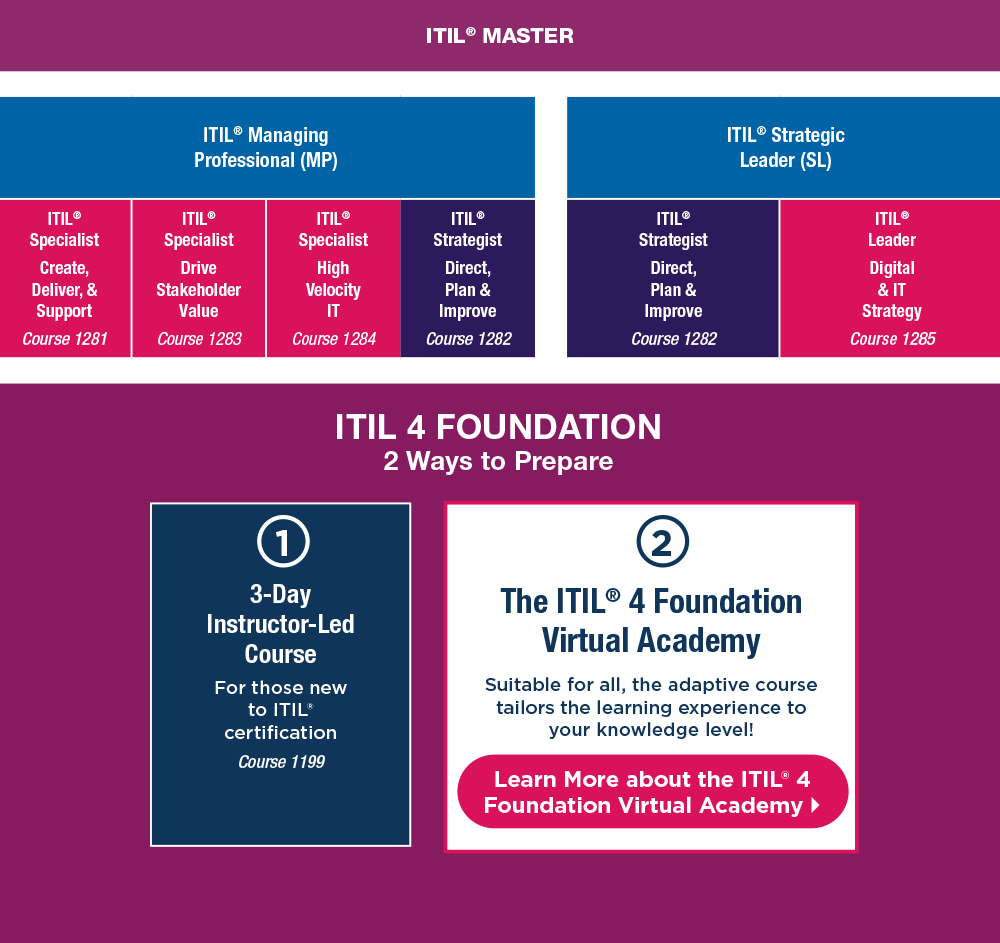 Bewildered by ITIL 4 and the upgrades that come with it?
Not sure of a clear transition to 4?
Wondering if your organization will need to adjust the lifecycle labels it currently has?
Questioning if ITIL really needed this major overhaul?

Never fear! When it comes to a smooth transition, AXELOS has it mapped out and Learning Tree has the courses to get you there. In this post we will look at how to make the transition and why it is definitely worth it.
How to Transition to ITIL 4

AXELOS has recently unveiled the new ITIL 4 Managing Professional transition module, designed to allow ITIL v3 candidates with a minimum of 17 credits to easily transition across to ITIL 4. On successfully passing the exam, you will gain the designation of ITIL 4 Managing Professional via one course and one exam.

ITIL(r) 4 Managing Professional (MP) Transition Training >

What if I have less than 17 ITIL v3 credits?

My advice is to remain on the ITIL v3 certification path and we will support you all the way. Here is what you will need if you are not at 17 credit points yet:
9 Credits - You'll need to earn extra ITIL credits by taking either 2 ITIL v3 Capability courses or 3 ITIL v3 Lifecycle courses.
12 Credits - You can earn your extra ITIL credits by taking either 2 ITIL v3 Lifecycle courses, or a Lifecycle and a Capability course.
15 Credits - You are one success away from the transition module -- choose from either a Lifecycle or Capability course.

View ITIL v3 Lifecycle and Capability Training >
Why Tranisitioning to ITIL 4 is Worth It

So I hear you asking, "Why should I transition to ITIL 4?"

The answer is simple - The 7 Guiding Principles:
Focus on value

Think back to the iPhone example: If you had an iPhone 4, you had an awesome 3.5" screen, a 5-megapixel camera & 32 GB of storage. But then with your iPhone 7, you were amazed with your 5.5" screen, dual-lens 7-megapixel camera, and 256 GB of storage. Then with your iPhone 11, everything is even bigger and better.Think back to the car example: If you had a Mark I car, it had 4 wheels, an engine, a steering wheel, and a stereo.
Start from where you are

Whether you have some, or many credits at the v3 level, you are still on the ITIL journey! Continue your journey from wherever you are, and don't worry about how far you have to go.
Progress iteratively with feedback

How do you eat an elephant? In small chunks. ITIL 4 may be more difficult to achieve if you go all the way back to ITIL Foundation.
Collaborate and promote visibility

Recognise that you need help. We can provide the help to take you through the transition to ITIL 4 in many ways.
Work holistically

ITIL is a complexed world, and that world requires you to be at the top of your game to get 17 credits and begin ITIL 4.
Simple and practical

Be mindful that no one will just give you the ITIL v3 credits. Like most things of value, you need to earn them. There will be competing objectives or outcomes in your life once you start the ITIL journey again.
Optimise and automate
You may decide that in order for you to continue on this path, an online automated set of courses should be your route. If that route sounds helpful to you, then our blended learning, or online course options may be right for you.
Learn More about ITIL Certification & Training