Learning Tree Recognized as Top 20 IT Training Company for Tenth Year
}
Learning Tree Recognized as Top 20 IT Training Company for Tenth Year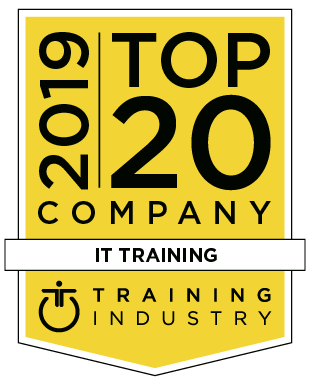 HERNDON, Va. – Dec. 5, 2019 – For the tenth year in a row, Learning Tree International has been named as a Top 20 IT Training Company by TrainingIndustry.com. Training Industry, the leading research and information resource for corporate learning leaders, prepares the Training Industry Top 20 report on critical sectors of the training marketplace to better inform professionals about the best and most innovative providers of training services and technologies.
Selection for this list was based on the following criteria:
Breadth and quality of IT training content and courses
Leadership and innovation in IT training
Company size and growth potential
Strength of clients
Geographic reach
View the 2019 Top 20 IT Training Companies and Watch List
"This year's Top 20 IT Training Companies are leading the way in the constantly evolving market for information technology training by expanding the breadth of their offerings. They cover the most sought-after vendor training courses and certifications to meet and often exceed the needs of the learner," said Ken Taylor, president of Training Industry, Inc. "These top companies are expanding the modalities through which their training is delivered to create a more blended learning experience. These modalities include instructor- and virtual instructor- led training, self-paced e-learning, and immersive practice environments using virtual labs."
"The 2019 IT Training Watch List Companies List features emerging IT training providers with focused capabilities and expertise," said Danielle Draewell, market research analyst at Training Industry, Inc. "These companies are adapting to the specific training needs of their customers by offering courses on popular topics such as cybersecurity, cloud computing and data science."
---
About Training Industry, Inc.
Training Industry (https://trainingindustry.com) presents news, articles, webinars and research reports focused on supporting the corporate training leader and offers complimentary referrals to training professionals seeking to source products or services at https://trainingindustry.com/rfp.
About Learning Tree International
Learning Tree International is a trusted, global partner delivering mission-critical IT training and certifications, as well as the communication and critical thinking skills necessary to effectively deploy and deliver major IT initiatives. With over 2.5 million IT & business professionals around the world enhancing their skills through Learning Tree's extensive library of proprietary and partner content, the Learning Tree ecosystem reflects how learning is done today and provides greater impact than eLearning or classroom learning alone. Transformational business solutions have evolved from working collaboratively with clients to address large-scale process improvement initiatives.
To learn more, call 1-888-THE-TREE (843-8733) or visit https://www.learningtree.com/
Media Contact:
Tricia Sacchetti
Vice President, Worldwide Marketing
Learning Tree International
+1 703 925 5552
Tricia_Sacchetti@LearningTree.com
Cautionary Statement Regarding Forward Looking Statements
The statements contained herein that are not historical facts are forward-looking statements based on management's current expectations and beliefs concerning future developments and their potential effects on Learning Tree. Such statements involve inherent risks and uncertainties, many of which are difficult to predict and are generally beyond the control of Learning Tree. There can be no assurance that future developments affecting Learning Tree will be the same as those anticipated. Learning Tree cautions readers that a number of factors could cause actual results to differ materially from those expressed in, or implied or projected by, such forward-looking statements. Learning Tree is not undertaking any obligation to update forward-looking statements contained herein to reflect future events, developments or changed circumstances.