11/30/2018
PortableApps allows you to present your content anywhere at anytime!

PortableApps makes it easy for you to take required applications and content with you no matter where you go so that you can make the conference presentation successfully.

Imagine, The Boss has an important conference presentation next week. Or maybe they have to deliver a presentation somewhere and the level of reliable Internet access is sketchy at best. They have a laptop but what if it breaks down or worse gets stolen? How can we ensure that they will be able to conduct their presentation if their laptop fails or there is no Internet access?

As an Instructor who delivers many onsite presentations to clients around the world I never know what the classroom environment will bring. With the presentation machine even be working? Will there by WiFi available? PortableApps has become an invaluable lifesaver for me many times. PortableApps with a Cellular Data USB connector and mini projector have become my go to fall back presentation delivery tools.

PortableApps is FREE and allow you present your content anywhere at any time even if you do not have your own computer with you. PortableApps.com is the world's most popular portable software solution allowing you to take your favorite software applications and data and documents with you. A fully open source and free platform, it works from any synced cloud folder (DropBox, Google Drive, Box, etc), from your local PC on an internal or external drive, or on any portable storage device (USB flash drive, memory card, portable hard drive, etc) moved between PCs. With millions of users all over the world and a full collection of open source and freeware software, compatible commercial software, and partners in hardware industry, PortableApps is the most complete solution for life on the go with access to over 400 free applications.


PortableApps Go Anywhere
So what is PortableApps?
A portable app is a computer program that doesn't need to be installed into Windows like traditional apps so you can carry it with you on a portable device or cloud drive and use on any Windows computer. When your USB flash drive, portable hard drive, or other portable device is plugged in or your cloud drive is synced, you have access to your software and personal data just as you would on your own PC. And when you unplug the device, none of your personal data is left behind.

No Special Hardware - Use any USB flash drive, portable hard drive, etc

No Additional Software - Just download, run the portable installer and go

No Kidding - It's that easy
PortableApps Install
So here is how I use it and here is how you might use it to help your Boss be successful when they absolutely must make that presentation when a crisis happens.
First create a blank USB stick.
Then download PortableApps at this link and being the installation process. Please note you will not be installing any software to your laptop but rather to the newly formatted USB stick. When prompted click KEEP and then click on the click on PortableApp application icon to install it.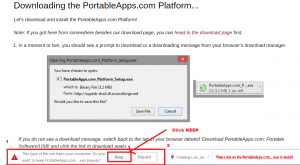 PortableApps Download
PortableApps will run you through an installation wizard. Please remember that you are not installing any software on your local computer.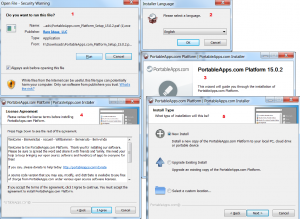 PortableApps Install
Selecting your PortableApps applications for the USB stick so that you can take them on the road with you.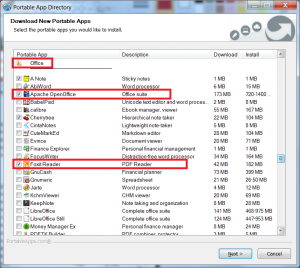 PortableApps Install Apache Office and Foxit PDFReader
Pick whatever other applications you believe will be helpful to you and your Boss while you are on the road and at the conference in case there is a problem with the presentation laptop. When you have selected all of the Apps you think you will need click Next button to build out your portable USB stick. Your new PortableApps USB stick should now be available for launch access via the Windows Explorer on one of the portal USB drives.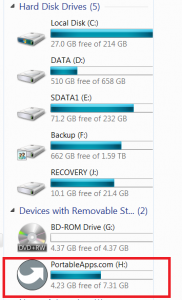 Portableapps USB
Open the PortableApps USB drive and click on the Start.exe application to launch PorportableApps.

Note: When you first run your PortableApps it may want to upgrade its software and the applications you have selected and this can take 15 to 20 minutes to try to use the unit few hours before the big presentation event o curses. You can always skip the update at any time. When it is ready open the easy to install. Now that you are ready copy all of the critical presentations files to the new Documents folder and from their your Boss will always be able to make a successful presentation.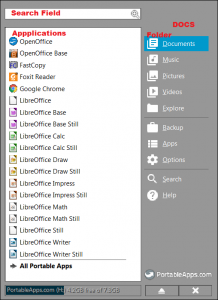 Portable Apps Menu
You can now upload a bunch of critical presentation documentation to the Documents Folder of the USB stick and then your boss can present from any PC.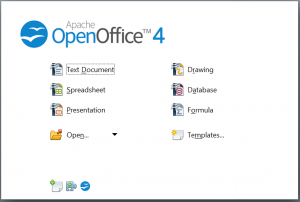 PortableAppsOpenOffice
Now start your presentation with the pre loaded PowerPoint slide uploaded to the USB Documents folders.

And you are now, or rather your Attendees are up to.