Error occured while rendering webinar_content
AI Implementation and Impact Webinar FAQs
Executives and Business Leaders: As decision-makers, they can learn how AI implementation can drive transformative outcomes and impact overall business strategy and performance.
Managers and Team Leaders: They can gain insights into leveraging AI to improve team productivity, streamline processes, and enhance decision-making within their departments.
Data Scientists and Analysts: They can understand how AI technologies can be integrated into data-driven analyses, enabling them to extract more valuable insights and make better-informed decisions.
IT Professionals: They can learn about the technical aspects of implementing AI systems, ensuring a smooth integration with existing IT infrastructure and addressing any challenges that may arise.
Marketing and Sales Professionals: They can explore how AI can be applied to enhance customer targeting, personalization, and sales forecasting, leading to improved marketing strategies and higher conversion rates.
Product Managers: They can discover opportunities to incorporate AI into product development, creating more innovative and customer-centric solutions.
HR Professionals: They can explore how AI can be utilized in talent acquisition, performance management, and employee engagement initiatives.
Finance and Operations Specialists: They can understand the potential cost-saving benefits and efficiency improvements that AI can bring to financial analysis, forecasting, and supply chain management.
Overall, this webinar is relevant for anyone interested in leveraging AI to drive business growth, innovation, and operational excellence across various industries and job functions.
Practical AI Insights: Gain actionable strategies for integrating AI into your organization, and addressing implementation challenges.
Business Impact: Understand how AI drives productivity, efficiency, and better decision-making for a competitive advantage.
Expert Q&A: Interact with industry-leading professionals, getting personalized answers to your AI-related questions.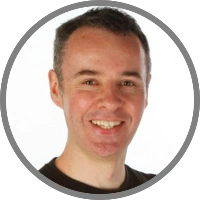 Andrew Tait
Andrew Tait is the Chief Technology Officer of Decision Mechanics. Decision Mechanics specializes in decision science and the design/development of related technology. With a background in Artificial Intelligence and Operations Research, he is currently involved in helping organizations make use of machine learning to tease insights from their data lakes. Prior to founding Decision Mechanics, Andrew held a range of posts in business, government and academia. He blogs at decisionmechnanics.com and tweets in bursts at @decisionmech. Connect with Andrew!